About WiSI Screen
A unique, mobile digital display screen, created to greatly improve, update and standardise the way customer information is presented.  Originally developed for the transport industry (rail and airport) it offers a versatile solution for any setting where a completely wireless and mobile electronic customer information display, is required
WiSI Screen is battery operated.  With a sleek modern design, it forms part of a complete system controlled by bespoke software.  This intuitive system enables you to quickly create and control the content that is displayed on its bright 40'' full HD screen.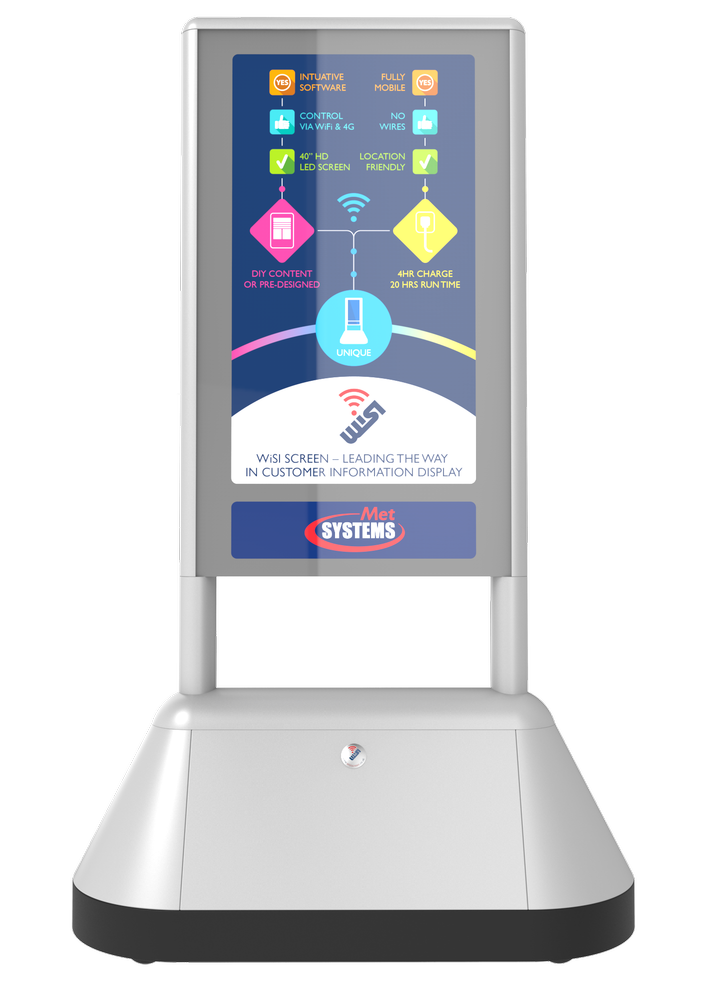 Easy to Use and Versatile

Charge and Go
Just charge up the battery for 4 hours and this mobile digital display screen will run for 20 hours.

Placement
Being fully mobile without wires, it can be placed in the most effective position making customer information unmissable.

Content
Create your own posters or use pre-designed content, travel information, video clips or real-time service updates. Choose how long each is shown for and in what order.

Control
The WiSI screen content can be quickly updated over the air (4G/3G or WiFi) from anywhere using the bespoke intuitive software installed on any workstation of handheld device.

Modern
Grab the attention of your customers with its super bright 40'' HD LED screen seamlessly integrated into a modern, yet familiar, design.
Cost and Time Efficient

Ready to Go
This sleek mobile digital display screen is delivered fully assembled, with minimal setup and training requirements, it can be rolled straight into action.

Location Friendly
Ideal in heritage sites or in any application where the installation of static display screens would not be permitted. It can even be deployed at unmanned sites.

Disruption Free
Being completely wireless, operating as a separate, stand- alone system, minimal project implementation is required.

Efficient
With minimal project implementation, installation costs and times are greatly reduced.

Ongoing Maintenance
Met SYSTEMS, the company behind the development of the WiSI Screen, offer cost effective maintenance and service costs when compared to static installations. Not classed as a fixed asset, it further reduces servicing costs.
Case Studies