The Requirement
As the go-to high speed method of transport to get you quickly and comfortably across the Channel to Europe since 1994, Eurostar has dramatically increased the number of passengers it carries from London to cities in France and Belgium
With this growth and the greatly increased passenger numbers travelling through Eurostar's key stations, came the challenge of maintaining the high levels of customer service; so crucial to, and very much part of, Eurostar's philosophy
Finding new ways of informing customers with real-time information, in a modern format in key station locations, was key.
The Solution
With our first European partner, this requirement was met at Eurostar's key stations at Brussels Midi and London St Pancras. The latter of which is a heritage site, hugely reducing what can be installed as fixed assets.
WiSI fits seamlessly into the Eurostar check-in desk area and can be placed in the most effective positions, making customer information unmissable. The screens are quickly and easily moved to other areas as required; to advise of travel disruption at an earlier point in the station thus avoiding passenger congestion.
Staff quickly update what's displayed on WiSI, freeing up more time to provide their hallmark high levels of customer service.
Mobile & Wireless
WiSI can quickly and easily be placed in the most effective position / location, making the displayed information more difficult to miss.
Installation
Simple delivery, meant the solution could be literally wheeled in and turned on, even at a grade 1 listed heritage site.
Time Efficient
The WiSI system is so quick and simple to use and to learn. Leaving more time for staff to improve their customers' experience.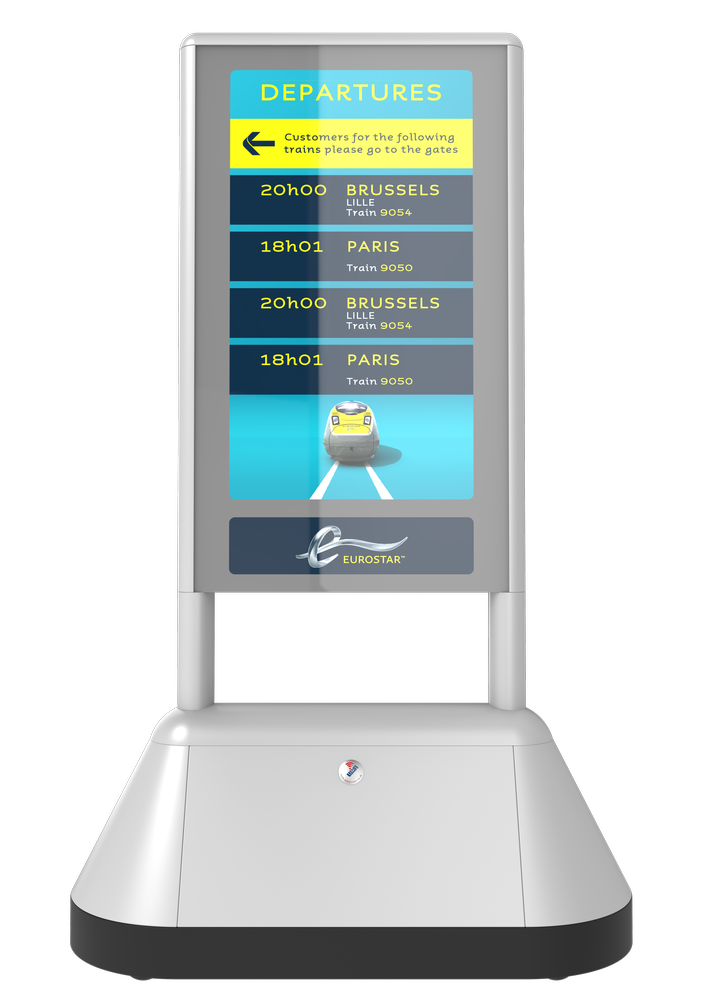 Related Case Studies